Los jueces han llegado a creer que la mujer mintió sobre algunas de sus actividades en las horas en torno a la supuesta agresión y que mintió respecto a su propio pasado. La fiscalía cree que mintió en los detalles cuando solicitó asilo en los EE.UU., incluso se presume que mintió cuando declaró haber sido violada en su Guinea natal… INCREÍBLE!!!!
.
.
——————-
-
.
El caso contra Strauss-Kahn, a punto desplomarse
El caso de agresión sexual presentado contra el ex jefe del Fondo Monetario Internacional (FMI) Dominique Strauss-Kahn está a punto desplomarse, dijeron fuentes cercanas a la causa, en un dramático giro que podría volver a alterar la política francesa.
Strauss-Kahn, de 62 años, era un administrador de la economía mundial y favorito para la presidencia de Francia cuando fue arrestado el 14 de mayo y acusado de agredir sexualmente a una mucama en un hotel en Nueva York.
.
01 de julio de 2011 • 10:20
Una fuente familiarizada con el caso dijo a Reuters, hablando en condición de anonimato, que la credibilidad de la mucama que lo acusó estaba "en tela de juicio".
El arresto forzó la dimisión de Strauss-Kahn del FMI y pareció poner fin a sus ambiciones presidenciales, pero su carrera política podría reactivarse si la fiscalía abandona el caso en su contra.
Los simpatizantes de Strauss-Kahn en el Partido Socialista francés expresaron su satisfacción ante el aparente cambio en la causa y algunos dijeron que esperan que pueda reingresar a la carrera presidencial del 2012.
Los analistas políticos opinaron que, si bien su reputación quedó demasiado perjudicada como para ser candidato, podría jugar un importante rol político si es absuelto.
"Incluso si lo que hizo no fue un crimen, todo esto va a llevar tiempo", dijo Christophe Barbier, comentarista político y editor del semanario L'Express.
"Está todo lo que nos enteramos de él, el daño a su reputación. Todo esto hace una idea de que podría ser un candidato muy hipotético, es ciencia ficción", agregó.
Desde el inicio, el caso dependió de la supuesta víctima, una inmigrante guineana de 32 años que limpiaba la suite de 3.000 dólares la noche en el hotel Sofitel de Manhattan donde se alojaba Strauss-Kahn.
El diario New York Times citó a una fuente cercana a la investigación diciendo que la empleada mintió varias veces y que los fiscales ya no creen en su relato sobre las circunstancias del supuesto encuentro sexual o de su pasado.
La policía y los fiscales pregonaron inicialmente su credibilidad, seguros de la historia de la mujer de que el ex jefe del FMI salió desnudo del baño, la persiguió y la obligó a que le realizara sexo oral.
Las pruebas mostraron que se encontró semen en el uniforme de la mucama, dijo una fuente cercana a la investigación.
Sin embargo, los abogados de la defensa desafiaron la versión del asalto violento, sugiriendo una defensa en base a que se trató de sexo consensuado.
Otra fuente cercana al caso dijo que la oficina del fiscal del distrito llevó el caso a un gran jurado sin comprobar totalmente el principio de buena fe de la mujer.
"Prácticamente todo lo que se publicó sobre esta mujer al principio era mentira, pero nadie lo comprobó o quiso creer otra cosa", indicó la fuente a Reuters.
¿PRONTO EN LIBERTAD?
El New York Times sostuvo que los fiscales se reunieron el jueves con los abogados de Strauss-Kahn y las partes estaban discutiendo la posibilidad de desestimar los cargos de felonía.
El diario añadió que Strauss-Kahn podría ser puesto en libertad provisional sin fianza y anularse su arresto domiciliario.
El abogado defensor de Strauss-Kahn Benjamin Brafman dijo previamente el jueves que su cliente comparecería el viernes ante un tribunal en Nueva York a las 11.30 hora local (1530 GMT) ante el juez Michael Obus para buscar cambios en las condiciones de su fianza.
Strauss-Kahn renunció a la jefatura del FMI el 19 de mayo y y se declaró inocente el 6 de junio, negando vehementemente las acusaciones en su contra. De ser hallado culpable, podría recibir una sentencia de hasta 25 años.
Con su dimisión, Strauss-Kahn rompió todos sus vínculos con el FMI. Christine Lagarde, que acaba de dimitir como ministra francesa de Finanzas, asumirá el máximo puesto del FMI el martes.
Su arresto desencadenó un debate nacional en Francia sobre igualdad de género y la tradición de pasar por alto el comportamiento sexual privado de los hombres en el poder.
Una absolución de Strauss-Kahn podría volver a abrir la carrera presidencial en Francia. Antes de su arresto, era el favorito en las encuestas para las elecciones de abril de 2012, y se preveía que acabaría enfrentándose en las urnas con el presidente Nicolas Sarkozy.
Su detención dejó el campo abierto para varios candidatos del Partido Socialista, como la líder del partido Martine Aubry, que va detrás de su compañero socialista Francois Hollande en las encuestas.
"Esta es una noticia impresionante para Dominique, para (su esposa y ex periodista de televisión) Anne Sinclair, para su familia. Creo que deben tener la impresión esta mañana de que se levantaron de una terrible pesadilla", dijo el legislador socialista Jean-Marie Le Guen, cercano a Strauss-Kahn, a la televisión francesa.
.
(Reporte de Mark Hosenball, Marie Maitre y Geert De Clercq; escrito por Daniel Trotta y Paul Taylor; Editado en español por Juana Casas)
.
.
.
http://en.wikipedia.org/wiki/File:Dominique_Strauss-Kahn_media_circus.jpg
,
,
,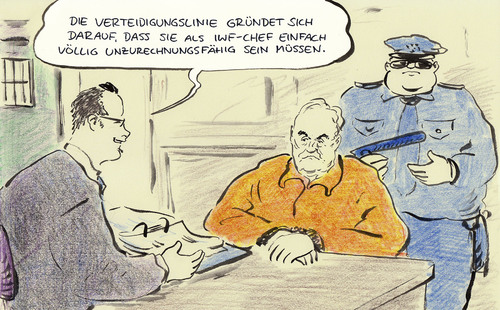 LA DENUNCIANTE. Nafissatou Diallo, 32 años, inmigrante de Guinea.
19 May 2011 – Blake Diallo asegura que es cierto el ataque de Strauss-Kahn. El abogado de
Nafissatou Diallo
negó que haya habido una relación consensuada.
www.lagaceta.com.ar/…/Mi-hermana-incapaz-inventar-esta-historia.html –
En caché
————————
.
.
.
.
Strauss-Kahn pagó 2.400 dólares por mujeres de compañía en 2006
Siguen saliendo a la luz más trapos sucios del ya ex-director gerente del FMI, Dominique Strauss-Kahn. Una de las madams más famosas de Manhattan, Kristin Davis, ha asegurado en el Daily Mail que Strauss-Kahn utilizó su servicio de chicas de compañía, Wicked Models, dos veces en 2006.Además, según el diario, habría contactado con la agencia a través de una prostituta bosnia que vivía en París, Irma Nici.Davis asegura que las chicas dijeron que Strauss-Kahn fue agresivo, sobón y duro, y una de ellas se negó a volver con él.
——————-
Los escándalos sexuales de Dominique Strauss-Kahn
Es "un buscador de placer", comentan en Francia.
El actual director del FMI tuvo varios escándalos sexuales. El director general del Fondo Monetario Internacional (FMI) está detenido en Nueva York, acusado de acoso sexual contra una empleada del hotel en el que se hospedaba. Pero no es la primera vez que el economista, que se declara inocente, está en medio de un escándalo por sus relaciones.
Strauss Kahn, de 62 años, está casado con su tercera esposa, la periodista y presentadora franco-estadounidense Anne Sinclair.
——————————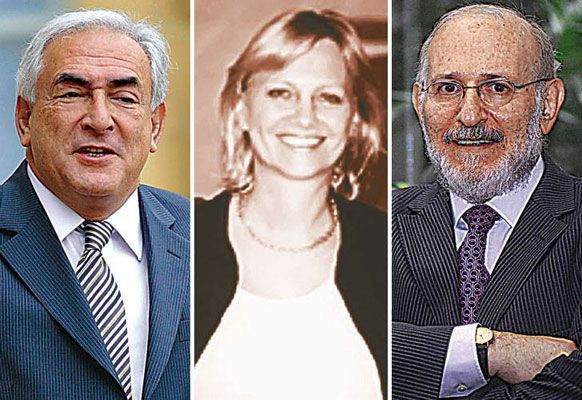 IMF boss Strauss-Kahn & Piroska Nagy and economist Mario Blejer
Su relación con la ex de Mario Blejer.
En 2008, fue acusado de mantener una relación sentimental con una economista húngara del FMI, Piroska Nagy, que además fue ex esposa de Mario Blejer mientras se desempeñaba como titular del Banco Hipotecario.
Nagy, que por entonces aún estaba casada con Blejer, se sumó, en medio del derrumbe financiero global, al programa de retiros voluntarios del FMI y se radicó en Londres. El escándalo se profundizó cuando se abrió una investigación sobre Strauss Kahn por "nepotismo", para determinar si la mujer recibió una indemnización mayor a raiz de la relación con el economista.
IMF head investigated over sex scandal with employee
en.mercopress.com/2008/10/20/imf-head-investi…
…………………………………..
.
.
La prensa francesa lo califica como "un seductor incorregible".
Cuando competía por la candidatura presidencial en 2007, apareció un libro de una autora anónima apodada Cassandra, presuntamente de su circulo de consejeros. Secretos de un Contendiente Presidencial decía de Strauss Kahn: "Es un buscador de placer. Como todo animal político, tiene problemas para controlarse. Su ojo con las mujeres es como un láser: cuando entra a un café, una oficina o cualquier lugar público, sigue el mismo ritual. Recorre la habitación con la vista casi imperceptiblemente, mientras sigue hablando, durante sólo unos segundos. Tras identificar a su presa, las bombardea con mensajes de texto".
Incluso se dice que el mandatario francés Nicolás Sarkozy le dio un consejo cuando el economista viajó a Nueva York para dirigir el FMI: "Allá no bromean con estos temas. Tu vida estará bajo una lupa. Evitá tomar el ascensor a solas con internas. Francia no puede permitirse un escándalo", según publicó el diario británico Telegraph.
Además, la escritora francesa Tristane Banón, durante el lanzamiento de su primer libro en 2004, aseguró haber sido víctima de la agresión sexual de Strauss Kahn.
-
21-5-2011 – A hotel maid, Nafissatou Diallo, who says IMF chief Dominique Strauss-Kahn tried to rape her was due to testify before a New York grand jury on Wednesday, as the French presidential hopeful faced growing pressure to resign.
A lawyer for the 32-year-old African widow dismissed a suggestion by Strauss-Kahn's defense counsel that the incident at the luxury Times Square Sofitel last Saturday might not have been a sexual assault.
"There's nothing consensual about what took place in that hotel room," attorney Jeffrey Shapiro told NBC's "Today" show, adding he believed she would testify "at some point today."
.
.
.
.
.
Accuser credibility questions shake Dominique Strauss-Kahn sex case
Published: Friday, July 01, 2011, 7:40 AM
Prosecutors have serious questions about the credibility of a hotel housekeeper who has accused former International Monetary Fund leader Dominique Strauss-Kahn of sexual assault, and he is expected to have his strict bail conditions reduced today, according to people familiar with the case.
Richard Drew, The Associated PressDominique Strauss-Kahn, right, head of the International Monetary Fund, consults with his attorney Benjamin Brafman, in Manhattan Criminal Court in New York on May 16.
Investigators have come to believe that the woman lied about some of her activities in the hours around the alleged attack and about her own background, a law enforcement official told The Associated Press on Thursday. The official is familiar with the case but spoke on condition of anonymity to discuss matters not yet made public in court.
Prosecutors think she lied about details on her application for asylum in the U.S., including saying she had been raped in her native Guinea, the official told the AP.
"She actually recounted the entire story to prosecutors and later said it was false," the official said.
Prosecutors haven't necessarily reached a new conclusion about the allegations against Strauss-Kahn and have not decided whether to downgrade the charges, the official said.
A court hearing is set Friday for the 62-year-old Strauss-Kahn, who is accused of crimes including attempted rape has been under armed guard in a Manhattan town house after posting a total of $6 million in cash bail and bond. He denies the allegations.
Another person familiar with the case but not authorized to speak publicly about it said earlier Thursday that Strauss-Kahn may get his bail and house arrest arrangement eased at Friday's hearing but would not elaborate. Strauss-Kahn lawyer William W. Taylor would say only that the hearing was to review the bail plan. The Manhattan district attorney's office declined to comment.
A third person who spoke on condition of anonymity told the AP that prosecutors have raised issues about the accuser's credibility in the case against Strauss-Kahn, but also would not elaborate.
The New York Police Department, which investigated the case, declined to comment. The woman's lawyer did not immediately return a telephone call seeking comment.
"There will be serious issues raised by the district attorney's office and us concerning the credibility of the complaining witness," Benjamin Brafman, a lawyer for Strauss-Kahn, told The Wall Street Journal.
The maid told police that Strauss-Kahn chased her down a hallway in his $3,000-a-night suite in New York's Sofitel hotel, tried to pull down her pantyhose and forced her to perform oral sex before she broke free.
If the case collapses, it could once again shake up the race for the French presidency. Strauss-Kahn, a prominent Socialist, had been seen as a leading potential challenger to conservative President Nicolas Sarkozy in next year's elections — until the New York hotel allegations embarrassed Strauss-Kahn's party and led to his resignation from the IMF.
"Those who know Dominique Strauss-Kahn will not be surprised by this evolution of events," one of his French lawyers, Leon Lef Forster, told the AP in Paris. "What he was accused of has no relation to his personality. It was something that was not credible."
New doubts about Strauss-Kahn's accuser would also revive speculation of a conspiracy against Strauss-Kahn aimed at torpedoing his presidential chances. Within days of his arrest, a poll suggested that a majority of French think Strauss-Kahn — who long had a reputation as a womanizer and was nicknamed "the great seducer" — was the victim of a plot.
Socialist Party chief Martine Aubry announced her own presidential bid this week, after having long been expected to throw her weight behind a Strauss-Kahn candidacy. French politician Michele Sabban said Friday that the Socialists should suspend the presidential primary calendar because of the new developments.
The New York Times first reported on its website that investigators uncovered major inconsistences in the woman's account of her background, citing two law enforcement officials. The Times also reported that senior prosecutors and Strauss-Kahn's lawyers are discussing whether to dismiss the felony charges, including attempted rape.
Prosecutors had argued against his release in May, citing the violent nature of the alleged offenses and saying his wealth and international connections would make it easy for him to flee.
"The proof against him is substantial. It is continuing to grow every day as the investigation continues," Assistant District Attorney John "Artie" McConnell told the judge. "We have a man who, by his own conduct in this case, has shown a propensity for impulsive criminal conduct."
In early hearings, prosecutors underscored that they thought the evidence against Strauss-Kahn was formidable. And it appeared so at first, the law enforcement official told the AP.
"In the beginning, it was a strong case. There was a victim and several witnesses and forensic evidence that supported the victim's claim," the official said.
The woman was in Strauss-Kahn's room only briefly before the alleged attack, his semen was found on her uniform, and she quickly reported the alleged assault and told a consistent story about it to investigators and prosecutors, the official said.
Prosecutors have said in court that Strauss-Kahn appeared on surveillance tapes to be in a hurry as he left the hotel, though his lawyers have said he was merely rushing to lunch.
Strauss-Kahn was in New York on a personal trip when the maid made her accusations. During initial bail hearings, prosecutors noted that he was arrested on a Paris-bound plane at Kennedy Airport, and that they could not compel his return from France if he fled.
His lawyers have underscored that it was a long-planned flight and have said he wants to return to court to clear his name.
Defense lawyers have said that the hotel encounter wasn't forcible, and that they have unreleased information that could "gravely undermine the credibility" of the housekeeper. The defense was using private investigators to aggressively check out the victim's background and her story, but the Times reported that it was investigators for the prosecution who uncovered discrepancies.
Police Commissioner Raymond Kelly has said the detectives investigating the case found the maid's story believable.
The woman's lawyer has said she is prepared to testify despite a "smear campaign" against her. The Associated Press generally does not identify accusers in sex crime cases unless they agree to it.
Strauss-Kahn was held without bail for nearly a week after his May arrest. His lawyers ultimately persuaded a judge to release him by agreeing to extensive — and expensive — conditions, including an ankle monitor, surveillance cameras and armed guards. He can leave for only for court, weekly religious services and visits to doctors and his lawyers, and prosecutors must be notified at least six hours before he goes anywhere.
The security measures were estimated to cost him about $200,000 a month, on top of the $50,000-a-month rent on a town house in trendy TriBeCa. He settled there after a hasty and fraught house hunt: A plan to rent an apartment in a tony building on Manhattan's Upper East Side fell through after residents complained about the hubbub created by reporters, police and gawkers.
Under New York law, judges base bail decisions on factors including defendants' characters, financial resources and criminal records, as well as the strength of the case against them — all intended to help gauge how likely they are to flee if released.
Defendants and prosecutors can raise the issue of bail at any point in a case. It's common, if asking a judge to revisit a bail decision, to argue that new information or new proposed conditions change how one or more of the factors should be viewed.
Jennifer Peltz, Associated Press; Tom Hays, Associated Press
Associated Press writers Colleen Long in New York City and Angela Charlton in Paris contributed to this report.
http://www.nola.com/crime/index.ssf/2011/07/accuser_credibility_questions.html
————————————–
.
.
Dominique Strauss-Kahn: The Great Seducer
By Palash R. Ghosh | May 15, 2011 http://www.ibtimes.com/articles/145889/20110515/imf-strauss-kahn.htm
Dominique Strauss-Kahn, who was detained in New York on Saturday night on suspicions of committing a sexual assault on a hotel maid, is no stranger to such scandals.
.
//
.
During the height of the global financial crisis in late 2008, the boss of the International Monetary Fund (IMF) was investigated for having an affair with one of his underlings, a young Hungarian economist named Piroska Nagy, the wife of prominent Argentine economist, Mario Blejer.
Blejer charged that Strauss-Kahn seduced his wife at the Davos international forum in Switzerland. Nagy, who worked in the IMF's Africa department, left the Fund and went to work in London for the European Bank for Reconstruction and Development (EBRD) – a job that Strauss-Kahn allegedly helped her to secure.
Strauss-Kahn, who is married to American-born French television news presenter Anne Sinclair, apologized for his sexual transgressions and seemed to survive the imbroglio with his career intact.
"I very much regret the incident and I accept responsibility for it," Strauss-Kahn averred.
Indeed, French media seemed to dismiss the case as an example of American puritanism, although they conceded that Strauss-Kahn was foolish to engage in risky behavior, given his high-profile position and the nature of his job.
"The affair may well be ridiculous compared with the destiny of the world, but it touches the heart of the culture of the American government and the IMF," said Claude Askolovitch, the editor of Le Journal du Dimanche at the time.
"It is less about sexual puritanism . . . than a deep horror of lies and conflict of interest."
The magnitude of the gathering financial crisis – and the IMF's key role in dealing with it – likely made the sex scandal seem even more irrelevant.
At the time, a high-ranking French government official said: "Strauss-Kahn is viewed as accomplished, smart and very capable. Because of that, the prevailing view seems to be, 'Let's hope this turns out to be nothing, because the IMF and the world really needs this guy to come through.' "
Moreover, Strauss-Kahn had even emerged as a likely presidential candidate for the 2012 elections under the Socialist banner.
However, rumors of extra-marital affairs and inappropriate sexual behavior have long dogged Strauss-Kahn throughout his career.
The French weekly newspaper Le Journal du Dimanche had dubbed him "le grand séducteur" (the Great Seducer).
Now, as he faces very serious charges in New York City, Strauss-Kahn may have run out of second chances. There would appear to be great doubts over his future as IMF chief, and his future presidential aspirations are probably shattered
http://www.ibtimes.com/articles/145889/20110515/imf-strauss-kahn.htm
.
.
6 Jun 2011 – "Lo que Dominique Strauss-Kahn hizo con la camarera negra Nafissatou Diallo, de Guinea, musulmana, viuda y madre de una hija de 15 años, … malcolmallison.lamula.pe/…strauss-kahn…/malcolmallison –

En caché

25 May 2011 – malcolmallison. Just another Lamula.pe weblog … Arnold Schwarzenegger, Dominique Strauss-Kahn y cómo el poder corrompe … malcolmallison.lamula.pe/…strauss-kahn/malcolmallison –

En caché

19 May 2011 – malcolmallison. Just another Lamula.pe weblog … Strauss-Kahn renuncia a dirección del FMI e insiste en su inocencia … malcolmallison.lamula.pe/2011/05/…/malcolmallison –

En caché

.